By Anonymous on Wed, 03/25/2009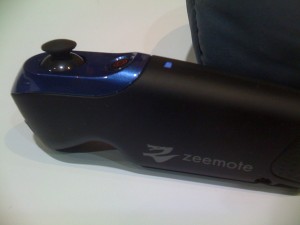 At GDC yesterday, I walked past a display showing the 'Zeemote'. They had it working with a verity of phones (from the site: major manufacturers like Nokia, Sony Ericsson, LG, Motorola, and, Samsung). Missing of course? The iPhone! Why? Because it uses Bluetooth which the iPhone VERY poorly supports.
However, times.. they are a chang'in..
The iPhone 3.0 update is suppose to significantly improve Bluetooth compatibility. When I talked with the guys at Zeemote, they said they have already started looking into it.
What I expect to see very soon is iControlPad's device gaining greater support. Here is the video if you have not seen it..
Sweet eh? These are the guys I'm watching for game play, and zeemote for all other remote tasks. But like I said, Apple had BETTER insure this can be supported. Else, just one more reason for people to join the jailbreak ranks.
Now… where is that bluetooth keyboard we have been waiting for??