By Todd Bernhard updated on 10/14/2011
When people ask me what to get the person who has everything, I always reply "something to keep it in!"  So if you or someone you know is fortunate enough to have an iPad, you're probably looking for a case and/or stand to keep it in.  Vendors at MacWorld were happy to oblige.  In fact, there were several products that overlapped each other in functionality that I repeatedly experienced déjà vu!  Here are four such products designed to let you hold your iPad in one hand and/or display it on a stand.  I have included a handy (pun intended) chart that shows the similarities and differences.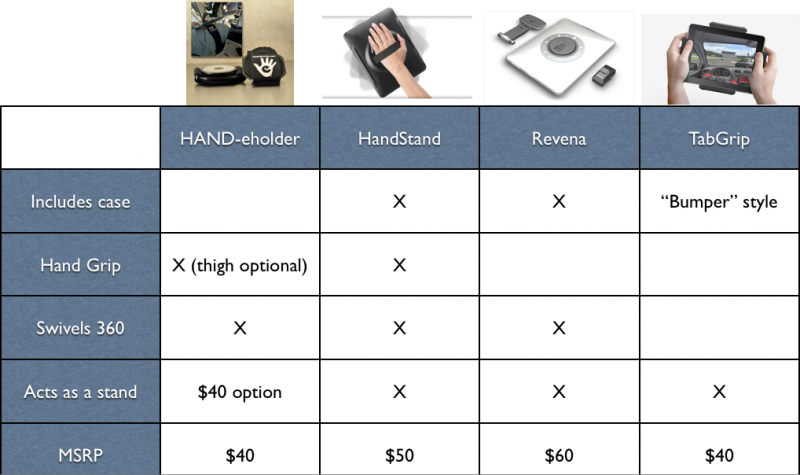 The HAND-eholder (http://www.handeholder.com) is a rotating handgrip.  It attaches using industrial-grade velcro to a 'disc' which in turn attaches via adhesive to the back of your 'naked' iPad.  They offer an extension to the handgrip so you can attach your iPad to your thigh, something the firm says pilots have asked for.  Hopefully those pilots are using GPS and weather apps as opposed to playing Angry Birds!  The 'disc' rotates 360 degrees so you can keep the iPad in the desired orientation while holding it in an almost carefree manner.  I was concerned about the force required to attach it to the iPad.  They demonstrated attaching and detaching it in front of me but I'm hesitant to repeatedly perform that ritual.  I would recommend applying the gadget to a hardshell iPad case and then putting your iPad in that case.  This way you can use the iPad 'naked' or in a different case depending on your needs as opposed to permanently mounting the HAND-eholder.
Master your iPhone in one minute a day:
Sign up to iPhone Life's Tip of the Day Newsletter and we'll send you a tip each day to save time and get the most out of your iPhone or iPad.
The HandStand (http://www.TheHandStand.com) takes an integrated approach.  Their device is a combination iPad case with 360 degree swivel handgrip built-in.  There is no velcro or adhesive to worry about and it's built well with smooth molded edges and a polished design.  As the name implies, a nice plus is that you can use the HandStand as a stand without any extra hardware.
Revena (http://www.RevenaProducts.com) showed off their $120 (on sale for $60) ELEMENTS AXIS Stand, a 360 degree swiveling stand.  Like the HandStand, Revena provides a specially designed iPad case with a built-in swivel mount.  Then you can slide in the support to turn it into a stand or use the wall mount.  A nice touch is the whole system is bundled with a neoprene case so you can transport your iPad, with the Revena system.
TabGrip (http://www.TabGrip.com) was something different altogether.  The closest analogy would be the iPad  equivalent of the Bumpers for the iPhone 4, with the added option of folding out legs for a stand.  The $50 (on sale for $40) TabGrip can be used as a stand in both landscape and portrait modes.  But as the name implies, the main use for the TabGrip is to grip the sides when you are playing racing games and other apps that leverage the accelerometer.  The TabGrip protects the top, bottom, and sides (though not the corners) minimizing (but not eliminating) the chance of damage by dropping the unit.