By Dig Om updated on 12/07/2012
Welcome to this comprehensive gift guide to the best of the best in rugged gear, accessories and apps for iOS. Featuring over 20 different companies that make high-quality, ruggedly contructed and durable gear, or apps suited to outdoor and survival skills. Read on after the break for more details (and over 30 useful links) about some of the most exceptional adventure-ready products on the market...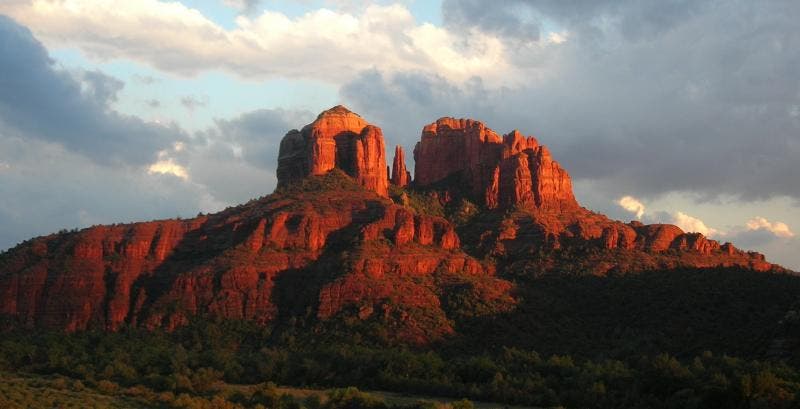 Master your iPhone in one minute a day:
Sign up to iPhone Life's Tip of the Day Newsletter and we'll send you a tip each day to save time and get the most out of your iPhone or iPad.
Two roads diverged in a wood, and I,
I took the one less traveled by,
And that has made all the difference.
From The Road Not Taken.
A poem by Robert Frost.
In this day and age, when the lines between being "plugged in" and "unplugged" have become so blurred, I find that more than ever, so many of us can appreciate gear and accessories that support our adventures (with our iDevices in tow) in nature and off the beaten path. Along with the basics (a lighter or matches, a flashlight, appropriate clothing, an emergency contact who knows where you are and when you are due back, a phone or phone app and a weather app) this article will help anyone gear up and get set for outdoor adventures and jouneys with iDevices safely along for the ride.
With today's modern technological advancements, being able to securely carry our iDevices with us into the wild has become easier than ever. Today I'll take a look at some of the best rugged, heavy-duty gear and related apps that can support our endeavors to spend more time out of the house and in situations where we can reconnect with Mother Earth, while still taking the fullest advantage of all the convenience and enjoyment our mobile iOS devices bring us.
This guide is intended to help folks doing holiday shopping for any outdoorsy-types, as well as for after the holidays when you've gotten your new iPhones and iPads and want to "break them in". If you, or anyone on your gift list, is into any of the following; camping, outdoor sports or activities, RV-ing or water sports, or roughing it, well, then this is the buyer's guide for you! I'd even encourage you to bookmark this page as a valuable reference in the world of rugged, heavy-duty iDevice accessories, gear and apps.
In spite of the increasing popularity of iPhones and iPads being used outdoors, in ever-more challenging and demanding environments, there aren't a whole lot of great roundups of the best rugged, heavy-duty gear and apps for life on the road less travelled. I hope this article will be one of those great resources, and I hope that you find the information, products and links contained herein to be both accurate and useful.
The criteria used to pick and choose which products are featured in this roundup are pretty simple: it must be something that is useful in nature, outdoors, in extreme or otherwise potentially harsh environments. If it is an accessory as opposed to an app, it must be built sturdily and with ruggedness, longevity and durability in mind. Any iDevice cases featured here must be able to be left in the case while charging, and have access to the headphone jack. Not all rugged cases allow access to all the ports.
---
Let's start with some of the best "into-the-wild" apps:
Apps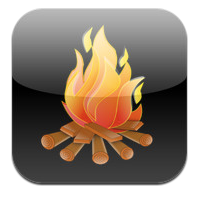 Survival Guide: The Survival Guide is just what it says it is; a comprehensive field guide for outdoor survival.  With invaluable information on all aspects of outdoor survival, from shelter, to food and water gathering, to fire craft, to injury treatment, to rescue, and much, much more. A great resource and one every outdoor explorer should have on their iDevice. The Survival Guide is free and can found HERE.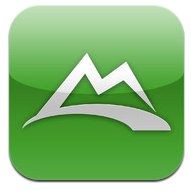 ALLTrails: A great free app that will show you all the known trails in your area, or, whatever area you designate. ALLTrails also presents you with valuable information on each trail including a 5-star rating system, difficulty, length and maps. ALLtrails is an excellent tool for anyone who enjoys hiking and spending time exploring new areas wherever they may be, and can be acquired HERE.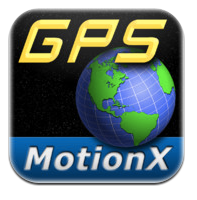 MotionX GPS: I turn folks on to this app all the time, every chance I get, and I consistently get positive feedback on it from those who get it and use it. It's my favorite GPS app in the App Store and has been for years now. It's does everything a great GPS app should do, including running in the background, enabling photo tagging of locations, listening to music while navigating, tracking routes and marking waypoints. The MotionX GPS app is intuitive and very easy to use, even for a GPS newbie, and is available HERE for $1.00.
RV Parking: This app provides all pertinent information that you could want when it comes to finding RV Parks across the nation. RV Parking also gives you details on many features available at given parks, including availability of cable, power, showers, laundry and Wi-Fi as well as allowance of pets and proximity to various activities. RV Parking is a free app that you can pick up HERE.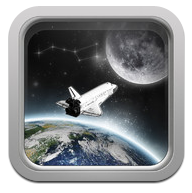 Sky View (Free): Most landlubbers don't know much about navigating by the stars, for that matter, neither do many seafarers. That said if you remember that Polaris, aka the North Star sits in the north then you have a great starting point for orienting yourself and finding your way. This app is also a must-have companion for any stargazers. Practically every constellation can be found using this app.
Sky View uses augmented reality to superimpose the celestial bodies over the sky. Simply by holding your iDevice up and pointing its rear camera in any direction you can discover the names and some basic information about whatever celestial bodies you may want to know more about. This is a great free app that should be on every sky-gazer's iDevice.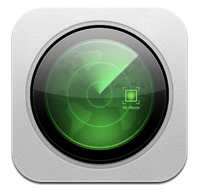 Find My iPhone: Apple's own free app that will, once set up, allow you to find your iPhone if you loose it, once you make it to a computer, and as long as your missing device has any juice left in its battery.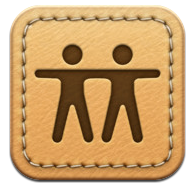 Find My Friends: Another free Apple app, this one will allow you to keep tabs on your accepted contacts visually via live mapping. It's great for outdoor adventures, especially if you get separated from your companions. Find Friends is also great for keeping track of those pesky teenagers.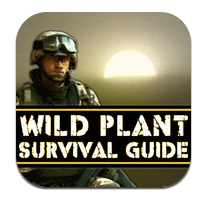 Wild Plant Survival Guide: This $2.00 app features over 130 plants with over 250 reference photos. It is stored locally so when you are in the outback and away from a signal you can still access all of the valuable survival information it contains. If you ever do find your self in a survival situation on land, this app could make a quick difference between life and death. This book is a great introduction and handy resource and for the price it can't be beat, but I would strongly encourage anyone needing a very comprehensive guide to wild edibles, get an in-depth book in the iBook store and keep it locally on your device.
American Red Cross - First Aid: This free app is indispensable, whether you are out in nature, on a farm, in school, in the army, at sea or in the city. Offering all the basic on first aid and addressing intuitively, everything from extreme emergency situations and disaster preparedness, to how to deal with poisoning, heart attack, choking, burns, allergies, shock, breaks and sprains and the list goes on and on and on. Everyone should have this app and since it's free, why not? It's one of the few apps out there that I can easily and truthfully say could save a life.
---
Gear
Cases:
A good protective iDevice is basically essential for time spent in the filed roughing it. Pretty "city" cases are wonderful and have their place, but when it comes to keeping your iDevice safe in extreme environments and under duress nothing beats a heavy-duty case that's been built to withstand the trials and tribulations encountered when roughing it, engaging in any outdoor activities and of course, just day to day living.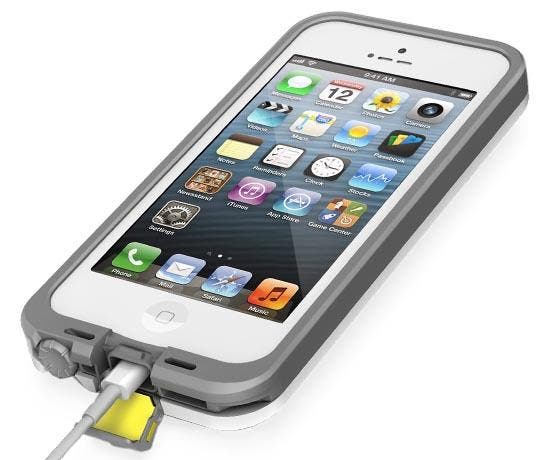 Lifeproof: The Lifeproof case has raised the bar of what a rugged protective case can be, much less a rugged, heavy-duty case that is shock proof, drop proof and is also waterproof to 6.6 feet! With its slim and unobtrusive profile and multiple colors to choose from the Lifeproof line of cases provide something for everyone, male or female. The military grade Lifeproof is available for the iPhone 5 HERE for $80.00, for the iPhone 4/4S HERE at a price of $70.00, and for the iPad 2 HERE for $100.00. The Lifeproof case for the iPad mini should hopefully be available early in 2013.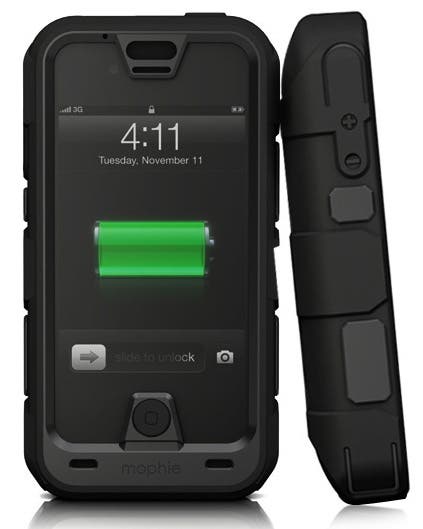 Mophie's Juice Pack PRO: Available in seven color options for the iPhone 4/4S, the Mophie Juice Pack PRO for the iPhone 4/4S provides the ultimate hybrid between a rugged case and a powerful 2,500 mAh "external", self-contained battery pack. This beefy, military standard case offers some of the best protection you'll find in a rugged case, with a battery pack or not. It's splash proof, shock proof and drop proof and is available HERE for $130.00.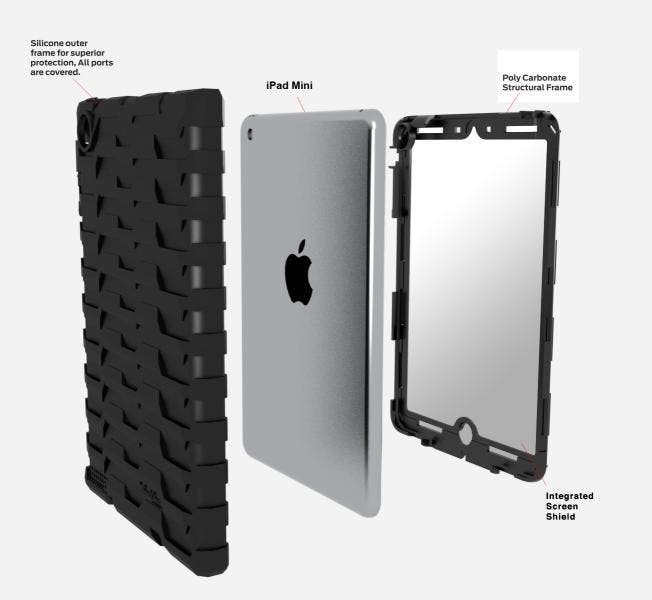 ShockDrop: The ShockDrop by Hard Candy incorporates a high-traction silicone skin with a front screen cover and partial internal polycarbonate frame to give this rugged case its military standard rating. For more on the ShockDrop iDevice cases for the iPhones and iPads click HERE. Prices range from $40.00 - $60.00.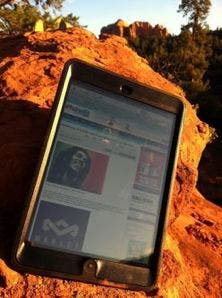 Defender: The Otterbox Defender is an exceptionally well-designed heavy-duty case, available in a wide choice of colors. The Defender sees to it that your ports are covered and with its integrated screen-protection your iPhone or iPad's touchscreen will remain scratch free. The Defender is available for the iPhone HERE for $50.00, for the iPad 2-4 HERE for $90.00 and for the iPad mini HERE for $70.00.
Survivor: Another military grade case, the Griffin Survivor line of iDevice case is one of my favorites for anyone looking for a case that can keep up with them wherever the road may wander. The Survivor is splash proof, shock proof, vibration proof, dust proof and drop proof. Click HERE to learn more about the Survivor series, with prices ranging from $50.00 to $80.00.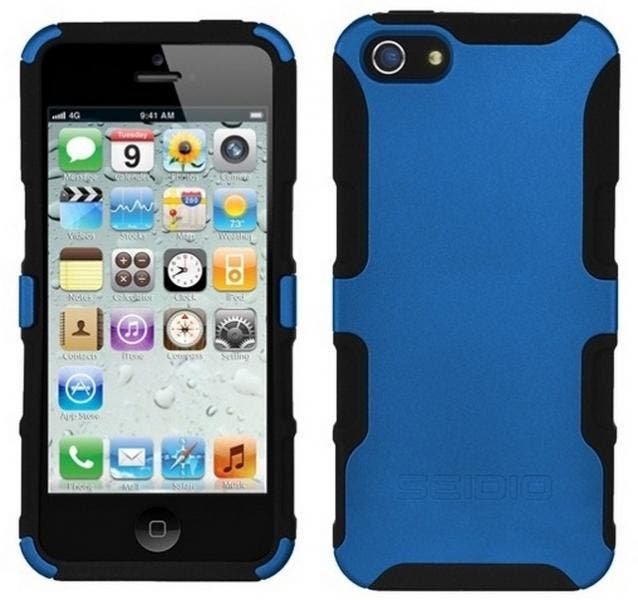 Active: The Seidio Active for the iPhone is an excellent case that offers multiple layers of integrated defense from abuse. With a slim, low profile design, the Seidio Convert will offer your iPhone superior rugged protection in a design that is stylish and doesn't have a bulky look about it. The Active can be bought HERE, for $55.00.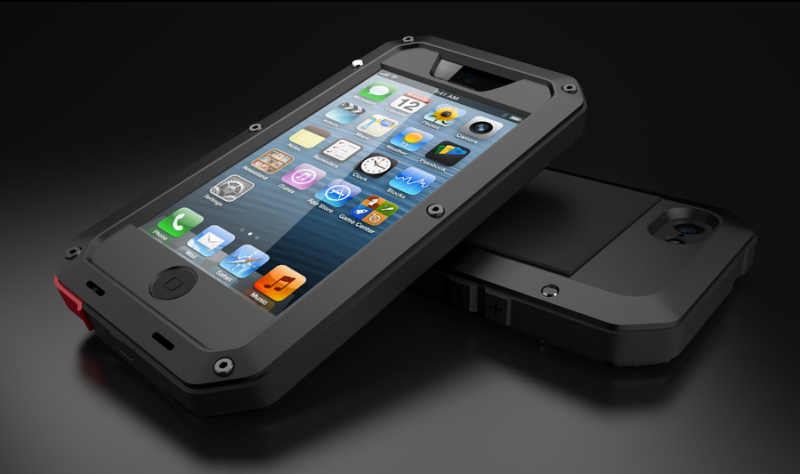 TAKTIK: The TAKTIK is one of the only cases to be ruggedly designed while offering an actual Gorilla Glass built-in screen protector. This iPhone case is exceptionally well designed and one of the most shock absorbing cases you will find, with its hi-tech built in cushioning bumpers. The luxury of having a Gorilla Glass screen to interface with can't be overstated. The TAKTIK is available HERE for $125.00.
The Shield: X-doria's entry in the field of heavy-duty iPhone cases is a sweet one. Integrating style and functionality, the Shield case blends all of the elements that a rugged case needs, into a design that is fashion-friendly and highly effective at offering a high level of iPhone protection at the same time. X-doria's Shield is available HERE for $40.00.
Optrix XD: The Optrix XD wide-angle lens iPhone 4/4S case is the ideal case for anyone into extreme adventures. If it calls for a helmet, it calls for Optrix. This is the perfect iPhone case for recording any Nitro-Circus fueled aspirations and insanity. Available HERE for $100.00, the Optrix turns your iPhone into the ultimate recording tool for everything form snowboarding and skydiving to motocross and kayaking.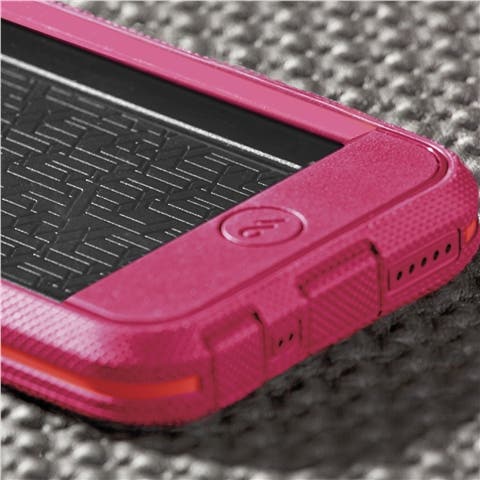 ToughExtreme: CaseMate's ToughExtreme is one of a new breed of iPhone case that fuses fashion and function seamlessly. Gone are the days when "rugged" meant a device that was bright yellow and black, and heavy-duty" implied that the case would look akin to a military tank. The ToughExtreme offers a wide selection of colors for a case that is well built and extremely sturdy. This case is splash proof and shock proof and will do an excellent job of keeping debris and danger at bay. The CaseMate ToughExtreme is available for the iPhone 5 HERE for $50.00.
---
Chargers:
Guide 10: Goal Zero offers a wide range of solar power solutions, in particular the Guide 10 plus Mobile kit. This kit allows you to charge your iDevice directly from the sun, or store a charge in an included external bank of rechargeable batteries. When folded up the solar panel is only slightly larger than a wallet and the fact that it helps free you from the tethers of an electrical wall socket. The Guide 10 is available HERE for $130.00.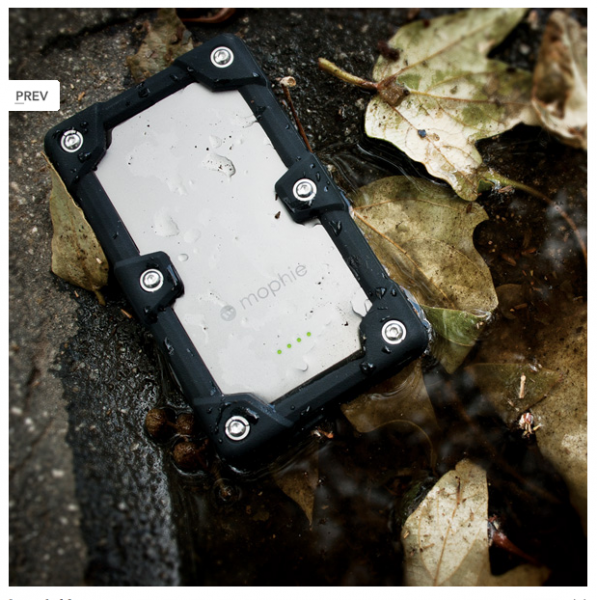 Powerstation PRO: Mophie's dedicated external 6,000 mAh rugged battery is built tough to withstand the pressures of an active and adventurous lifestyle. With a military standard rating, this battery pack (available HERE for $100.00) offers a valuable back up to your iDevice's internal battery.
---
Rugged Bluetooth Speakers: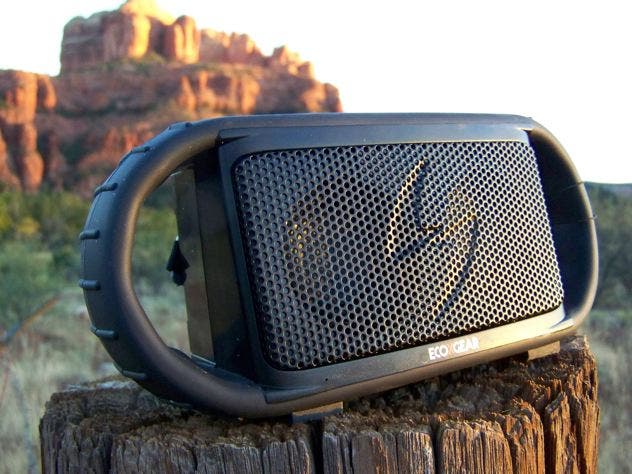 EcoXBT: The EcoXBT is the most rugged Bluetooth speaker I have yet to come across and the only one to be completely waterproof. With an excellent sound and the ability to float on the water's surface, this is the way to go if you want a portable sound system that isn't afraid to get wet. The EcoXBT is available HERE for $130.00.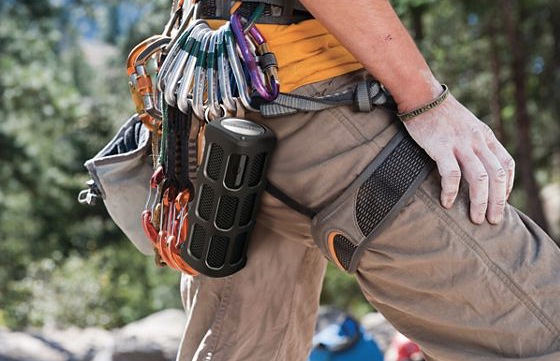 Shoqbox: The Philips Shoqbox delivers perhaps, the best sound of any rugged and portable Bluetooth speaker, putting out a solid 8 watts of powerful sound. This speaker is shock proof and splash proof and built to a high stand of audio excellence. Available HERE for $180.00, the Shoqbox is a high quality and heavy-duty choice for a portable sound system.
Turtle Shell: The Turtle Shell is one of the most compact and thus, easy to carry rugged Bluetooth speaker options. With its shock proof, dust proof and splash proof design, the Turtle Shell by Outdoor Technology is the ideal solution for anyone who wants loud and crisp audio in a ruggedized design that can withstand the elements. The Turtle Shell can be acquired HERE for $150.00.
---
Earphones/Headphones:
DJ Slims: These awesome and comfortable Bluetooth headphones from Outdoor Technology are so great in a number of ways. They deliver killer sound and they are extremely pliable and durable. They are also very lightweight and they also allow you to skip and pause/play songs from controls located on the earpiece. The DJ Slims are available HERE for $70.00.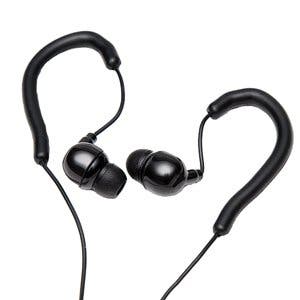 EcoXBuds: These completely waterproof headphones are perfect all-weather headphones. Whether you just know that they will be exposed to water while out hiking or riding whatever it is you ride, or whether you are into water-sports and want headphones that allow you to conveniently bring your tunes with you on kayaking or windsurfing adventures, the EcoXBuds are some of the best and most economical waterproof headphones on the market. Available HERE for $40.00.
---
Tips and Tricks for the Outdoor Adventurer:
What would any good wilderness guide or off-grid resource be with a couple of good tips and tricks? So with that in mind, here are a couple of my favorites.
Refresh your signal for better reception:
Getting reception out in the wild can be a tricky thing. Sometimes you have it, sometimes you don't. Those are pretty clear cut and its always good to be prepared to not have a signal when out in nature so you don't use it as a crutch or grow dependent on a wireless signal for your survival. That said there are times when you will find yourself at the periphery of a cellular signal and at those times I can suggest two things that will help.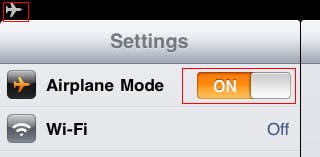 First of all, turn off your Wi-Fi. Not only will it save batteries, but your iDevice won't be continually searching for a wireless signal. When Wi-Fi is off, the iDevice seems to have a bit more "attention" to pay to 3G or LTE or EDGE form the cellular towers.
Second of all, turn your Airplane mode on and the off. That's all. You don't even have to leave Airplane mode on for long. Just doing this will make your iDevice take a minute and recalibrate and search for the strangest signal. I often find that a signal that may have been low a few minutes and several yards ago will have gotten stronger as I change positions. Sometimes the iPhone can get kind of hung up on a weak signal and when that happens a simple "Airplane reset" will get the iDevice back in line with what might be a stronger signal at the moment.
Charging in the field: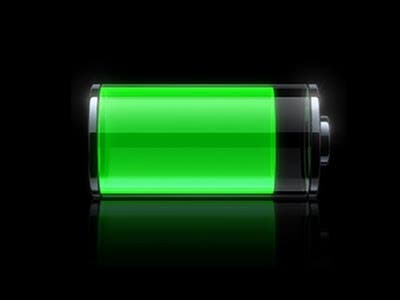 My advice for recharging your iDevices when away from wall power is to NOT wait until the iDevice is in the red zone. Instead, charge your iDevice when it gets to 50%. Let it the battery level creep back up to 75% if possible and then let your external battery rest and or recharge. It seems that if you continue working in this zone, keeping your iDevice at a battery level of between 40 and 80 percent you are able to squeeze just a bit more life out of both your iDevice as well as your external battery pack. Of course, if you are using the sun to recharge you iDevice, my advice remains to keep your iDevice at approximately 40 - 80% charge, but of course, the solar panel's photovoltaic cells don't need to be recharged so when possible let your iDevice top off from the sun! Especially since the solar panels can only charge during daylight, and on any given day the sun's energy can get fickle with clouds.
Read an iBook:
While on the topic of battery life, another thing to keep in mind, when out in the field where wall charging isn't available: what are you using you iDevice for, and what is running in the "background". It's useful if not critical, to keep an eye on both your battery level, as well as the ammount of drain any given app subjects your battery too. So while that GPS app might sure be handy, it will also suck your battery levels down fast! And while a little Infinity Blade II or Mordern Combat: Zero Hour might be fun ways to pass the times while fishing or off on the trails, they will also drain your battery fast. If you want to play a game, something like Words with Friends or Apocalypse Max: Better Dead Than Undead will better preserve your battery. Or, better yet, try reading a book from your iBooks library. A great way to pass the time and with an app that draws a minimal ammount of power from your precious battery.
---
---
An important note:
I hope this was and continues to be a useful article for everyone and I thank you for taking the time to read through all of this, and stay tuned as I intend to update this compilation with additional infortmation on new products as they become avaiable or come to my attention. Likewise, if you know of something else that ought to be included in this compendium that isn't already, please don't hesitate to contact me directly or post a comment below.
Happy shopping!