By Becca Ludlum on Sun, 01/20/2013
So, you just bought an iPhone. It's shiny and beautiful and everyone is saying, "welcome to the club!" But you don't know what all the fuss is about... yet. Here are the five things you need to know about your iPhone before you can truly fall in love with it. 
1. Turn your phone sideways to display a larger keyboard. No, everyone at Apple doesn't have miniature fingers. They all know the standard portrait keyboard is small, and that's why they made a larger one for those of us who like to type. Turn your phone sideways (landscape orientation) to display the larger keyboard. Not all apps allow the use of this larger keyboard, so know that every once in a while you'll have to suffer through the smaller one for a bit.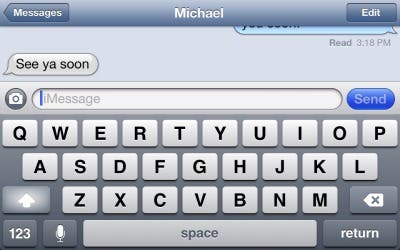 Master your iPhone in one minute a day:
Sign up to iPhone Life's Tip of the Day Newsletter and we'll send you a tip each day to save time and get the most out of your iPhone or iPad.
2. Control your music from your lock screen. If you're listening to music and want control it without going to your music app, double click the home button (the round button at the bottom of your iPhone) to display the settings for your music player. From there, you can change songs, control volume, play, and pause your music. You can also control the volume with the volume buttons on the side of your iPhone without unlocking your iPhone - a great tip for using your iPhone to play music while exercising. 
3. Learn to slide. iPhones like to slide. The lock screen that shows when you attempt to use your phone has two options - slide your finger up the right side to use your camera, or slide the bottom arrow to the right to unlock your phone. If you get stuck on a screen - whether it's in an app or on the internet, try sliding your way out of it. This is especially helpful when reading articles online!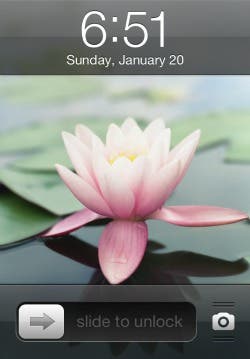 4. Take a screenshot! Taking a photo of your screen, or screenshot, is one of my favorite things about the iPhone. If you need to remember information you found on the internet (addresses, phone numbers, movie times), need to quickly save part of a text message or email, or want to use a funny internet meme for your phone's wallpaper, press the round home button on the front of your iPhone and the oval on/off button on the top right of your iPhone at the same. You'll hear the camera shutter click and your screen will turn white for a second, then the photo will be saved into your camera roll.  
5. Make folders for your apps. Like any new iPhone user, you're probably downloading a lot of apps right now! Keep your apps organized by adding them to folders. To organize your apps, press and hold one of the apps you would like to add to a folder. When it begins to shake, drag it on top of the second app - they will merge into one folder. You can name your folder or your iPhone will guess a name for you depending on the apps you added. To add more apps into the folder, press and hold the app you would like to add and drag it into the folder. If you would like to add an app on one screen to a folder on another screen, drag the app far over to the right or left side of your screen and it will move to the next screen.