By Michael Damante on Fri, 10/11/2013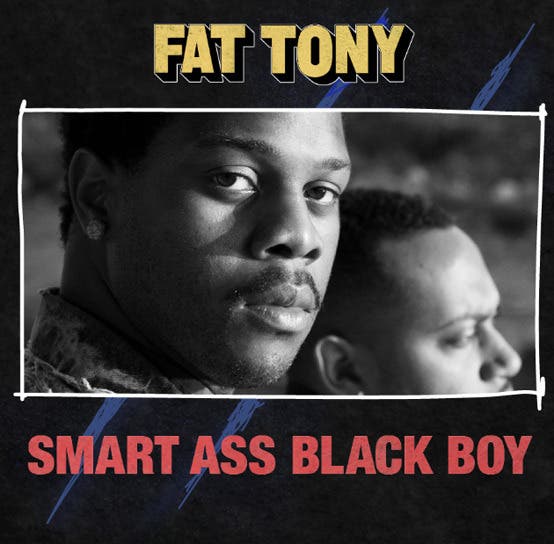 The words hustle and grind are often used by rappers, but often those buzz words fall flat of reality. Yes, there are some who take the mantra and give it credibility, but others are just spitting empty words. Fat Tony, the indie-rap pride of Houston, Texas, exemplifies the spirit of the grind.
For the past two years, Fat Tony has been bouncing from Houston to Brooklyn and Los Angeles, trying to make his dream come alive. His hard work has paid off as he has played coveted festivals like South by Southwest, signed to upcoming indie label Young One Records, opened for hip-hop heavyweights like Ludacris, and released his second full-length album Smart Ass Black Boy. The mainstream has taken notice too. Vice, NPR, and Pitchfork have all featured his music, including a full album stream on NPR. Not bad for an underground rapper from Houston. Fat Tony talked to iPhone Life magazine about life on the road, the recent success, and his many tastes in music. 
Master your iPhone in one minute a day:
Sign up to iPhone Life's Tip of the Day Newsletter and we'll send you a tip each day to save time and get the most out of your iPhone or iPad.
Q: How does the technology of your phone help you as an artist?
Fat Tony: Having portable Internet access helps me update fans, friends, and family instantly with what's going on in my mind and what I'm doing daily. I can always let it be known when there's a secret show or a change in venue or set times. I often document spontaneous incidents on tour, especially if they're hilarious. The phone keeps me entertained on the long drives between shows too. Miles and miles of highway can drive a man mad. I couldn't see life on the road without my phone.
Q: What would people be surprised that you have in your iTunes and on your iPod?
Fat Tony: Depends on what people think I like. Maybe it is my favorite Madonna song, "Live to Tell," or the few KoRn songs I enjoy unironically. I think it's pretty well known I have diverse tastes though. I'm always open minded to music from anyone, anywhere, at any time.
Q: How do you use your phone for fun on the road?
Fat Tony: I look up hundreds of silly memes on Instagram and take screen captures of the ones I like for my own archive. I literally get lost in that for hours if I'm left alone. And when I'm done with that I dig deep into the madness of Twitter.
Q: Does the name of the album Smart Ass Black Boy reflect your thinking-outside-the-box approach?
Fat Tony: I think the songs themselves better reflect my outside-the-box approach. I've never heard songs like "Father's Day" or "Hood Party" or "The More Things Change" or "Final Destination." I write songs in my own world, purposefully avoiding the trends. And I've never heard production as forward thinking and jammin' as Tom Cruz's beats. The title Smart Ass Black Boy represents what it takes to be a young, black male in this day and age, in my opinion. You have to be intelligent and keen on our surroundings. ("Smart" or "smart ass," as in very intelligent.) You also have to know when people are belittling you and cleverly assert yourself in subtle ways (being a "smart ass" as in a "smart aleck," but not overly obnoxiously). Lastly, I used to the term "boy" because traditionally that was a disrespectful way to address a black man of any age in America. It is what it is.
Q: How much were you influenced from bouncing coast to coast, living in New York and Los Angeles the past couple of years?
Fat Tony: L.A. was a great place to write this album. The energy me, Tom Cruz, and our engineer Paul Katzman shared was perfectly in sync. We built the studio ourselves in a band rehearsal space in downtown L.A. I wrote the songs in two days and we recorded it all in four days. Everything flowed smoothly as it was meant to be. L.A. is a wonderful place I'll always enjoy, but New York gives me more of that hustler spirit; an eagerness to progress in everything I do. I'd love to make my money in New York and relax with it in L.A.
Q: How does it feel to have Pitchfork and NPR take notice of your work?
Fat Tony: It's awesome. I'm absolutely thrilled that respectable writers are embracing my music because it will spread what I do to a much wider audience. Getting my music out to the people is my number one goal. I'm here to reach as many people as possible, and I'm not stopping until the world is aware of Fat Tony.
Q: What was the first song you ever heard?
Fat Tony: Probably something by Alvin & the Chipmunks or a Michael Jackson song from Off the Wall, Thriller, or Bad. 
Q: What is your favorite album of all time?
Fat Tony: Tough question. So many favorites, it's hard to pick just one! It's always changing but today it's Dirty Mind by Prince, on another day it's the first Bad Brains album.
Q: If you could work with anyone who would it be and why?
Fat Tony: E-40 and Too Short—they are two of my all-time favorite rap heroes. They stick to their guns and really impress me with nearly every record.
Q: You did Double Dragon with Tom Cruz. Are you a big gamer? If so, what are your favorite video games of all time?
Fat Tony: I used to be but after I got Grand Theft Auto: San Andreas I was DONE with videogames. It was just too fun. But I can confidently say the very best videogame ever and my all-time favorite is Zelda: Ocarina of Time for N64.