By Nate Adcock updated on 11/07/2011
It was a joyous Halloween week of gory shooter games, which still has not ended!
Dead Space
, released earlier this year, is a gore-fest of terror-inducing abominations that spring up on you from just about everywhere--easily the top spot of the genre. I've had the game for awhile, but just finally getting around to really playing it (I have a long queue, so sue me). Also in this edition is a tasty game called
Dark Meadow
: a scary shooter, and a puzzle-solving adventure game all wrapped in one. Read on for my mini-reviews of both games.
Eric Pankoke
has previously posted up on both...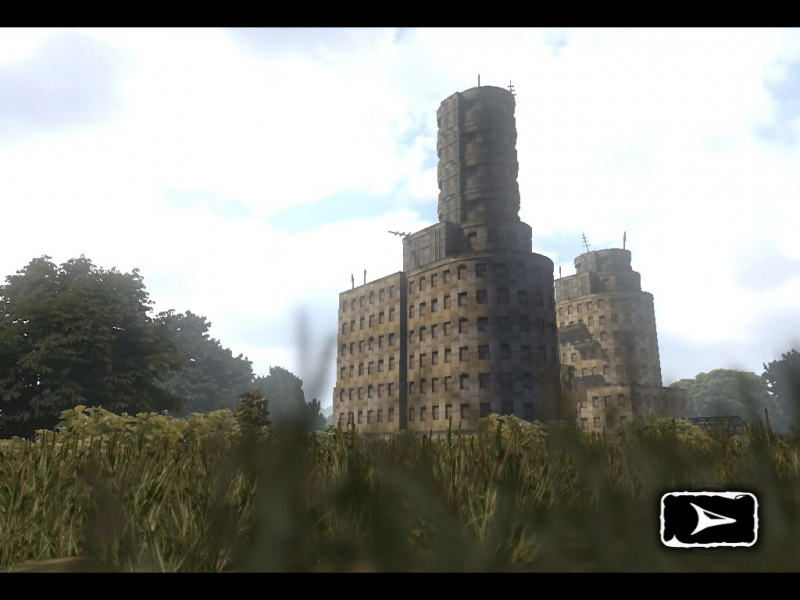 I'll start with Dark Meadow. The game is huge requiring nearly a GB of storage on your device (800+MB download), so you might want to make sure you are using WiFi before slapping down the iTunes dollars to buy and pull it down. I ran it on my iPad (1st Gen) with the very latest iOS software updates installed. No crashes or glitches were noted with either game, and I strongly recommend using some decent headphones for both--more immersion into the gooseflesh-raising ambiance.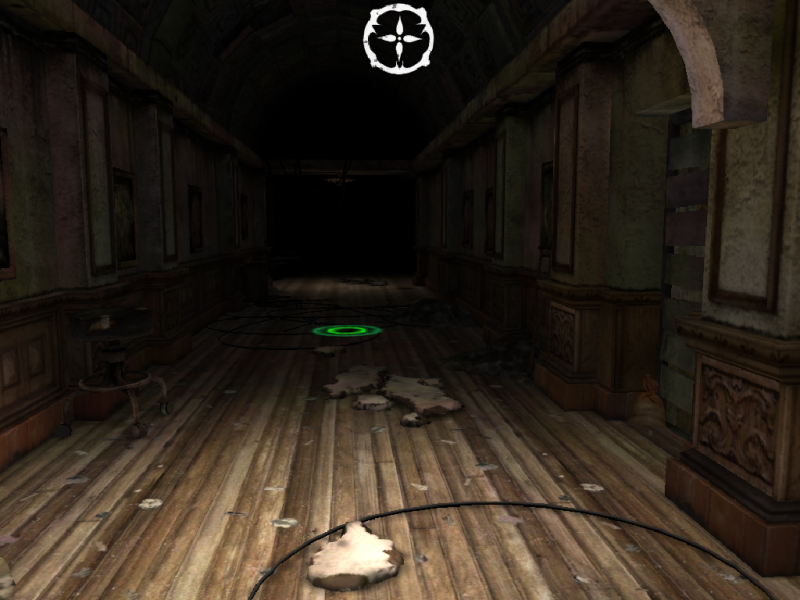 Dark Meadow is seriously creepy, but the action is not what you might expect. About half the time, exploring rooms and areas of the abandoned, cursed hospital is a large part of the game. You shouldn't expect to get free movement in this game. There are flashing green spots positioned at intervals throughout, and you move to each of them to navigate. In this sense, DM is more like an adventure game, and many areas/rooms do not include the threat of something jumping out to devour you. The game has it's share of that as well, but feels a bit scripted. Monsters appear in front of you and then move slowly toward you. You have a crossbow and sword at the start, and more powerful weapons are found throughout the hospital.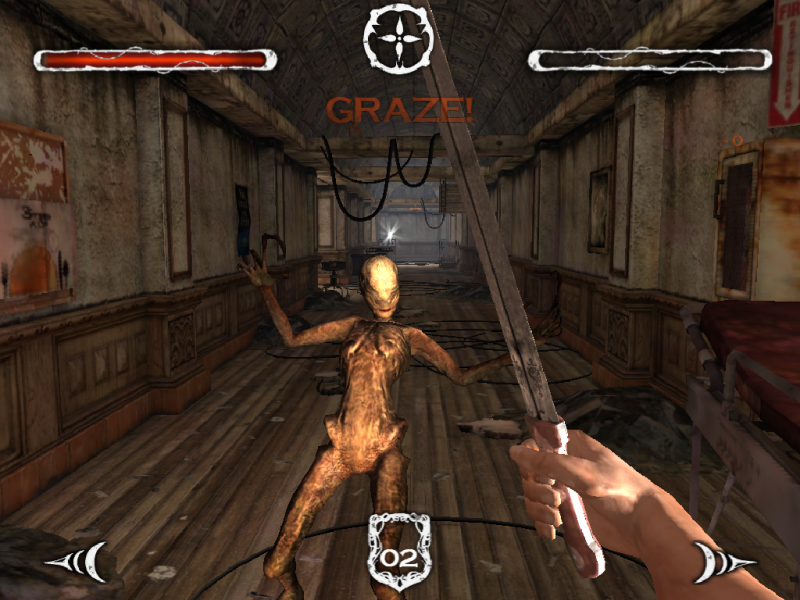 ..nice day for sword-fighting with...er, whatever you are, I guess...
The melee is almost turned based (you hit, then the enemy hits). You gain experience points, and gold--how you spend gold in an old abandoned hospital I can' say, but you can in this one--to be used to upgrade both ability and weapons. The sunny sections of the place provide sanctuary (look for a Sun symbol on the door), and here you can find the various cryptic news clips, letters and other objects that provide tips. The game AI persona that talks to you when on these levels is entertaining (he appears at the beginning as bespectacled elderly guy in a wheelchair). There is also a mysterious white witch you catch glimpses of at the beginning. I made the mistake of actually meeting her face to face on one of the levels, and ended up dead, so beware. DM gets some props for the graphics, but a couple minuses for general game-play during melee. I still give it my approval if you want a slower paced puzzler with scary aspects.
I do not really recommend trying to play either Dark Meadow or Dead Space on the iPod touch if you have iPad. Mostly because of screen real-estate and clarity. Both games feature scenes that are especially dark, and require some elaborate gestures that are harder to execute on a small screen. The first "attack level" checkpoint on Dead Space was a problem because of this--couldn't tell which way to run, and the first monster just keeps stalking you, all the while stabbing the crap out of your character. After a while, I was like, "dude, really? ...You again?", as I turned down yet another dark hallway. After 5 minutes of trying to find my way out (and becoming quite annoyed with the monster roaring in my ear), I just let him kill me. Then I figured out the weapons..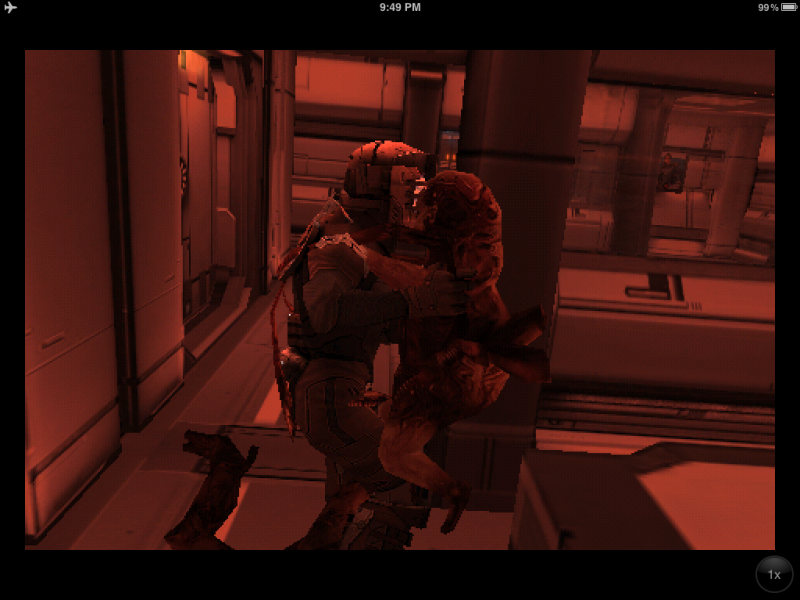 .
..give us a kiss!..
Battling a particularly sticky munchkin-sized baddie...
Dead Space is probably the damned coolest (sorry I feel that strongly that I had to do some minor cussing), most funnest, awesomest shooter game I have found for iPad. I mean even the magnified iPhone version, not
the HD version
which is even more awesomer than that! It is crazy scary, and truly a superior TPS/FPS game logic engine to match the wonderful sights and sounds! The freakish necromorphs come at you, and you shoot them; they still come (dragging one-handed if necessary). You shoot rotating saw blades at them, cutting them to ribbons, and they still crawl at you. You can stomp them, cut them, whatever. They roar, they get in your face and try to eat you in response. It is righteously awesome!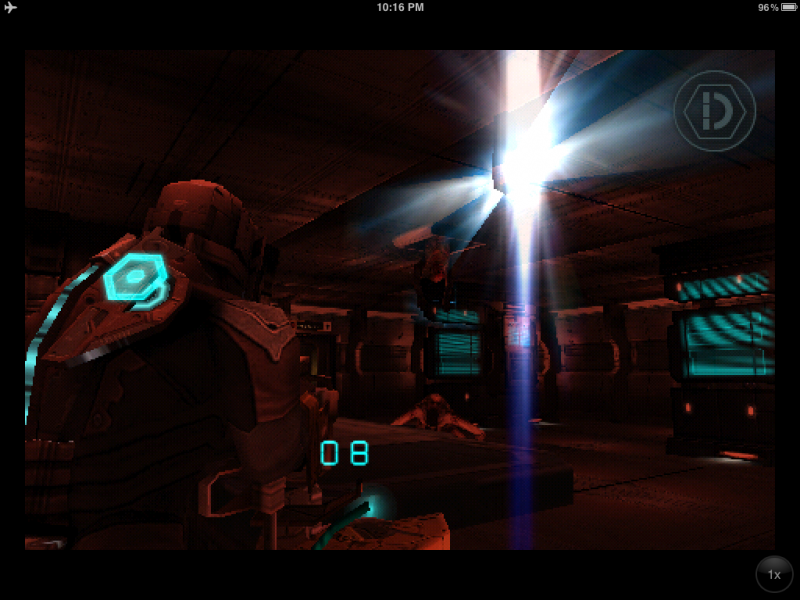 ...uh-oh...lockdown?!
Probably should have stayed in my spacebunk today...
Evidently your character is a specialist on a mining ship (see the full story
here
), which has had a virus-like epidemic sweep the crew turning them into grotesque mutants.  You and other engineers (comm-ing through your helmet during the game) must get the systems back on-line, link up and escape. Everything about this game is near perfect. From the melee, to the weapons (which are enhanced mining tools), to the scary ship environments. It's just beautiful.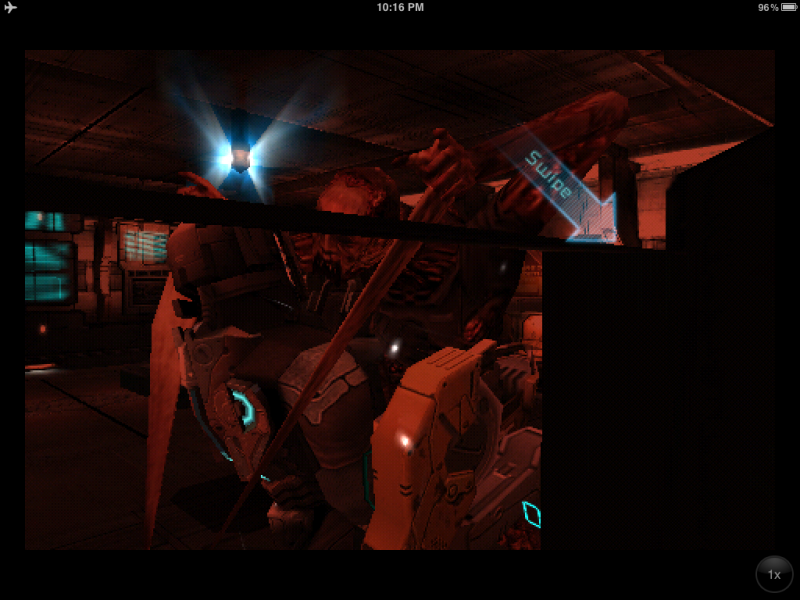 Enemies in DS get up close and personal... Dude, you need a mint...
Even the monsters have a strange beauty that only the DS-initiate can truly appreciate--they aren't horrible, just shall we say, misunderstood. Anyway, this game is easy to control. The swiping to look around annoys me a little, but what you going to do with a touchscreen and no other control options? I recommend a sturdy stand as you'll want both left/right pointer fingers for constant movement and control. Double-tapping the character will make him do an about-face, which is handy. Everything about Dead Space is mucho over the top great. A really cool touch is the pseudo-attacks, where you waste ammo only to find a few seconds later it wasn't the real thing. Nice touch...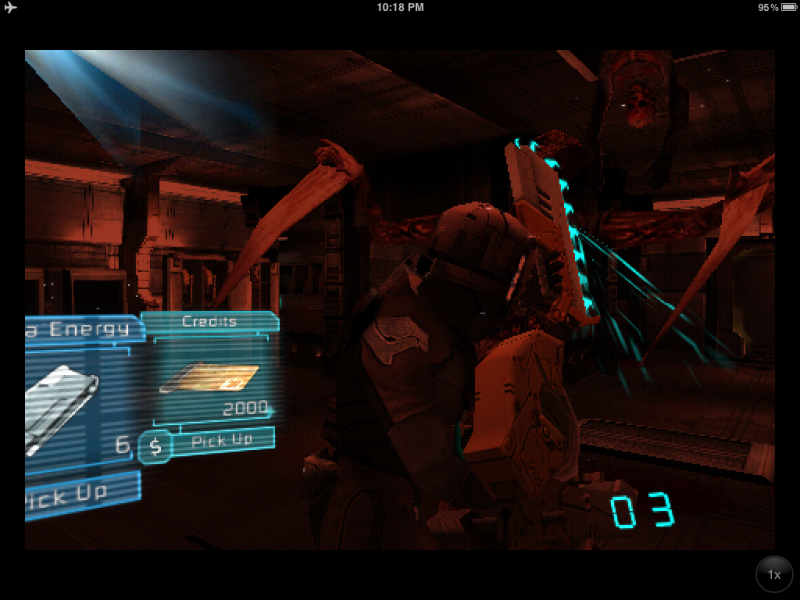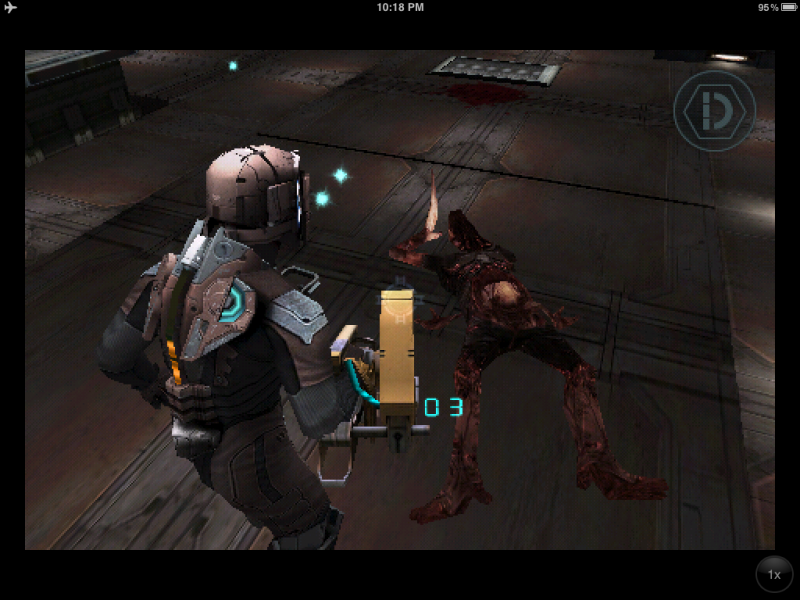 Anyway, it is obvious that a lot of thought when into every nook and cranny of Dead Space, and I wish I had gotten to it sooner. Dark Meadow is scary on a different level. Kind of morbidly fascinating and scary in slow motion--weird old hospital, mystery and the occasional baddie. Get either game at the links provided above. They sure kept my blood pumping this Halloween!...
Stay tuned to our blogs for more great news, reviews and tips here at iPhoneLife.com!