By iPhone Life Team on Thu, 12/19/2019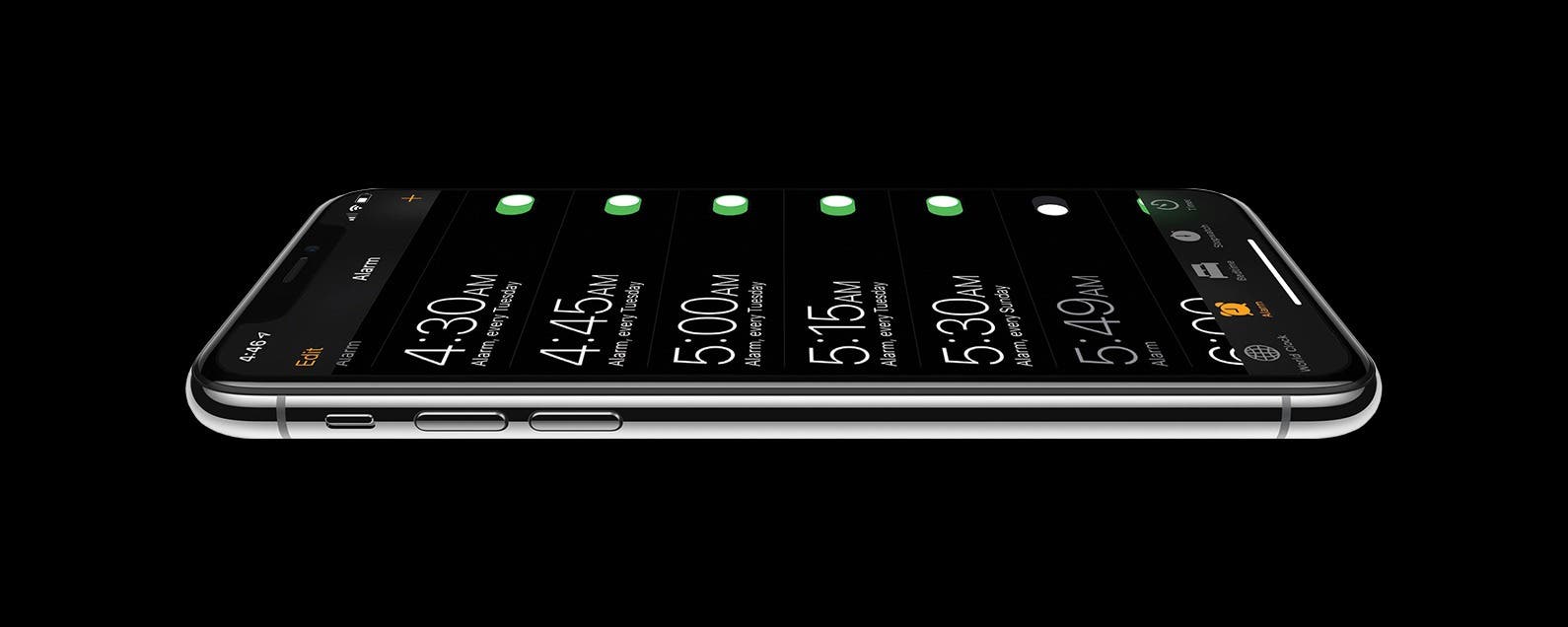 iPhone alarms have a default snooze time of nine minutes, which can seem like an eternity if you are a heavy sleeper or short-lived if you need a little extra time. Apple does not actually allow you to change the default snooze time on your iPhone. However, there are two ways to get around this: with a Clock app workaround involving setting multiple alarms at your preferred intervals or with a third-party alarm app. We'll show you how to use both options to change the default snooze time on your iPhone. 
Related: How to Set an Alarm on Your iPhone or iPad
Master your iPhone in one minute a day:
Sign up to iPhone Life's Tip of the Day Newsletter and we'll send you a tip each day to save time and get the most out of your iPhone or iPad.
How to Change the iPhone Snooze Time in the Clock app
Since adjusting the nine-minute snooze time isn't an option with the iPhone's alarm app, one way to work around that is to set multiple alarms at your preferred snooze intervals. Instead of enabling the snooze option on your alarms, you can make multiple alarms for 2, 5, or 10-minute intervals, for example. Just don't forget to turn off the snooze option when setting your alarms. Below are the steps to quickly create and set multiple alarms as an alternative to changing the iPhone's default snooze time.
How to Create Custom Snooze Intervals on Your iPhone
Open the Clock app.


 
Tap + in the top right corner to create a new alarm


 
Turn Snooze off by tapping on the toggle button


 
Set your alarm time by sliding up and down on the clock
Hit Save in the top right corner


 
Repeat steps 2–5 for as many alarms as you need at your preferred snooze intervals.


 
How to Customize iPhone Snooze Times with an App
If you don't want the hassle of setting up multiple alarms in order to change the default snooze time on your iPhone, the simple solution is to download an alarm clock app. There are multiple free alarm clock apps that you can find in the App Store, including apps that let you customize your snooze times and apps for those of us who are heavy sleepers. Here are our choices for some apps that can help you get your well-deserved rest.
Best iPhone Alarm Clock Apps for Snoozing
Loud Alarm (Free) 
This very loud alarm app lets you snooze for 2, 5, 9, 10, 15, or 30 minutes, it also features different sounds from car/fire alarms to chalkboard nails that are sure to wake you up. This app has a very minimalist design and easy to use interface, you can simply click on the alarm icon to set your alarm or enable voice commands. It is free to use the basic features but does have additional features that you have to pay for, such as removing ads, additional alarm sounds, and even different character voices.


 
Alarm Clock for Me (Free)
With this alarm, you can snooze for 1 to 60 minutes. It comes with an option to wake up to your favorite music; and if you still need a little extra help getting up, it has an option to flash your phone lights with your alarm. This app has a very clean user interface, which makes it very easy to set your alarms. If you're the type of person who wants complete control of their snooze times, Alarm Clock for Me is the alarm clock for you.
 
Alarmy (Free) 
This alarm allows you to snooze for 1, 3, 5, 10, 15, 30, 45, or 60 minutes. There are tons of different ways to wake up in the morning including shaking, taking pictures, solving math problems, memory games, and more. This app was very easy to use and was one of our favorites. Its different options to get up make getting up in the morning a thrill. Outside of its basic features, it has an option for a monthly or lifetime subscription that provides you with more options to help you wake up, including typing, walking, and even a time pressure option that will read you the time and alarm label every minute until you get up.